Have your cake… And eat it!
Some folk eat cake to cycle, while others cycle to eat cake. Either way, it's fair to say the two are almost inseparable. Regardless of priority, the Mournes, as Northern Irelands top cycling destination, offers a little something for everyone. So, simply put, you can have your cake… And eat it!
We've cycled to great lengths to test the destinations cake offering. Though it's not all about the cake… Who are we kidding? It's absolutely about the cake, but given what the area offers, from Strangford to Carlingford, we've included a few other factors. So here's our Top 5 Mourne Cake Stops…
Turnip House
The Turnip House is nestled deep in the foothills of the high Mournes, offering breath taking views across the stunningly rugged countryside towards the main peaks. Run by John and Elaine (and dog Freddie), the venue offers a host of established arts & crafts products alongside a simple but superb café.
In terms of cycling, we undertook to explore The Nooks & Crannies of Legannanny, including not least, the inspiring Legananny Dolmen dating back to circa, 4,000bc, before stopping off to sample John & Elaines traditional home-made Lemon Drizzle with a cup of their Freshy Ground Coffee.
The venue is awesome, the food is fantastic (they do so much more than just cake), the craic is always great and the weather on our visit was wonderful as we sat outside… if there was a downside, it's the difficulty in leaving!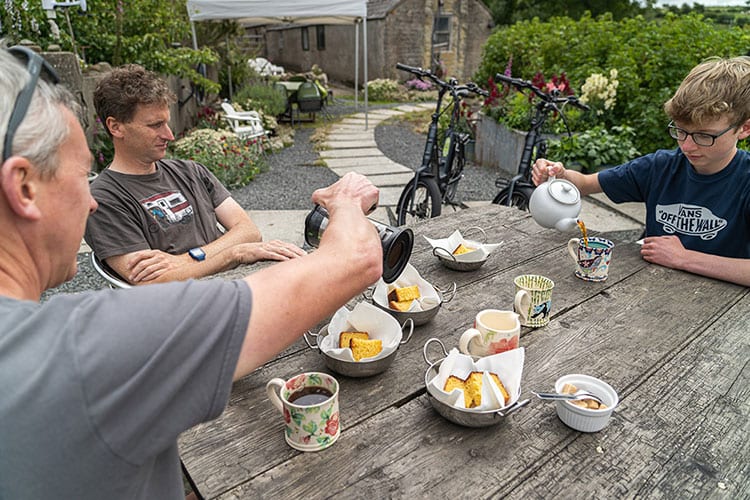 Synge & Byrne Cafe
Synge & Byrne has one of its best outlets (we may be biased) at the Rostrevor MTB Trail Centre, widely reported by many to be the top spot for mountain biking in Ireland. Offering a casual feel with a contemporary food offering, the venue is the perfect solution for hungry bikers.
With regards to cycling, we couldn't escape the draw of the Rostrevor Red MTB Trail offering some challenging mountain biking but with rewards of incredible coastal views and exhilarating singletrack descents and of course Synge & Byrnes post ride Rhubard & Raspberry Tart and top notch Americano.
So whether it's food or fuel, pre or post ride, this is a must do… though do be careful, if as we did, stop post ride, the trail munchies can lead to all sorts of sweet temptations which the guys are more than happy to feed!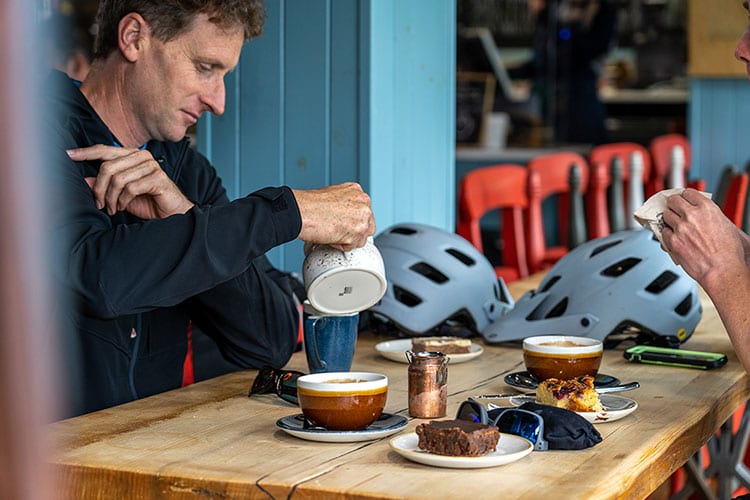 Meelmore Lodge Cafe
Meelmore Lodge is located within easy reach of the seaside town of Newcastle, amidst the myriad of villages and townlands that decorate the northern foothills of the high Mournes. Run by the Patterson family, Meelmore is best known for caring for hill goers given its proximity to the stunning Trassey Valley.
We opted to cycle tour through Ballyhafry, Ballymagreehan, Ballymaginaghy & Beyond, the place names offering insights into the areas natural, built and social heritage, with a timely stop off for what is often underrated in the cake world, Meelmores homemade Madeira Cake, and copious cups of Tea.
This is a stunning setting, abuzz with walkers, climbers, runners and cyclists and with the added benefit of onsite camping and hostel accommodation you don't even have to leave… Just ask for Dessie!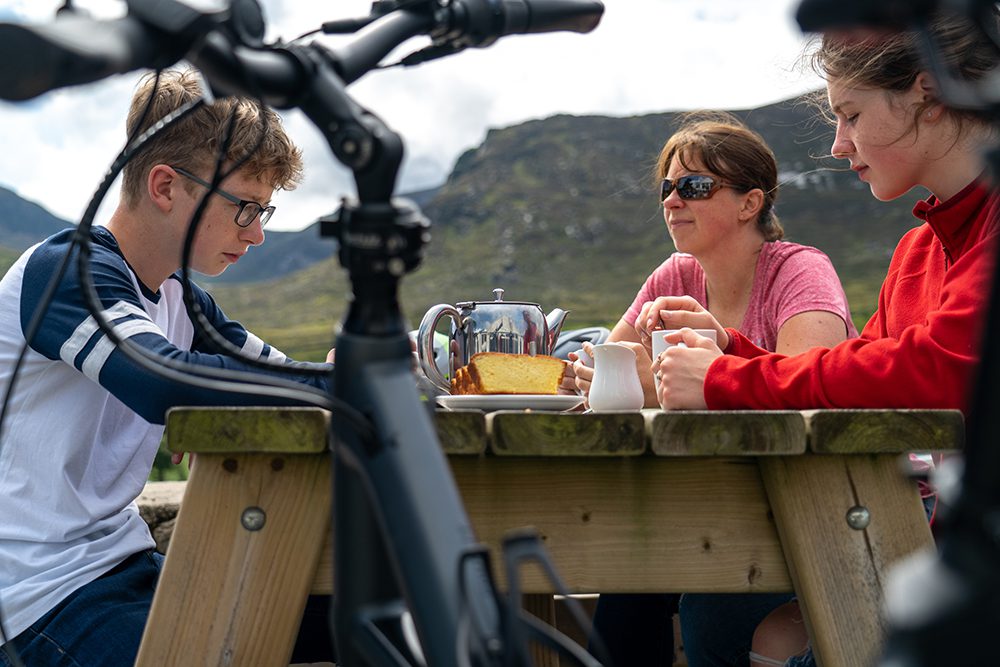 South Prom Brew Bar
The South Prom Brew Bar is situated perfectly overlooking Newcastle Harbour, mid-way on the Mourne Coastal Route and among some of Ireland's most spectacular coastal scenery. Run by the Connolly Family, the Brew Bar is much more though, being part of the adjacent Harbour Inn, it offers a range of eating, drinking and sleeping options.
We chose two days of cycling with our Mourne Coastal Route Tour, perfect for the adventurous with so many fantastic variations on routes to ride and places to explore, from the multitude of little coastal villages, castles, beaches, forests and an essential pit stop for some South Prom Cheesecake and a selection of their Brews.
This is a perfect stop off on the edge of the bustling seaside town of Newcastle or likewise, a warm and welcoming stopover on the two-day Mourne Coastal Route… eat, drink, sleep!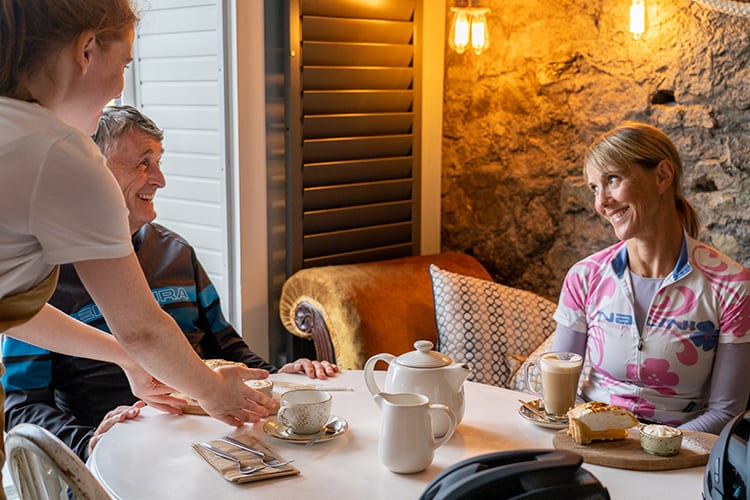 Carrick Cottage Cafe
Carrick Cottage Café is located on the popular Carrick Track beneath the High Mournes, with beautiful views across the countryside of patchwork fields and stone walls to the Irish Sea. This is another fantastic family run café, housed in a traditional Mourne cottage and complete with open fires.
In terms of cycling, we opted to explore The Ins, Outs and Whereabouts of the Silent Valley to include a unique insight into the natural, built and social heritage of Mourne, including not least, the Silent Valley Mountain Park and the Water Story, before a well deserved Lemon Meringue Pie and excellent Coffee stop at Carrick (you can opt for tea just to get a pot with a cosy!).
Another fantastic venue, warm and welcoming with much more than just an excellent Lemon Meringue… It may require a few more visits just to work through the menu but then again, we are committed cyclists!